Mothers in Mother Nature
Presented by the Nature of Yoga: A Series of Conscious Events at Terra Cotta Conservation Area 
---
In honour of Mother's Day, this Nature of Yoga event emphasizes brings awareness to the connection between the mothers that roam this earth and Mother Nature herself. Guided by certified instructor Marie Boulanger, this event on May 4th is going to be extra special with her nurturing teaching style and authentic expertise brought straight from the Sacred Valley!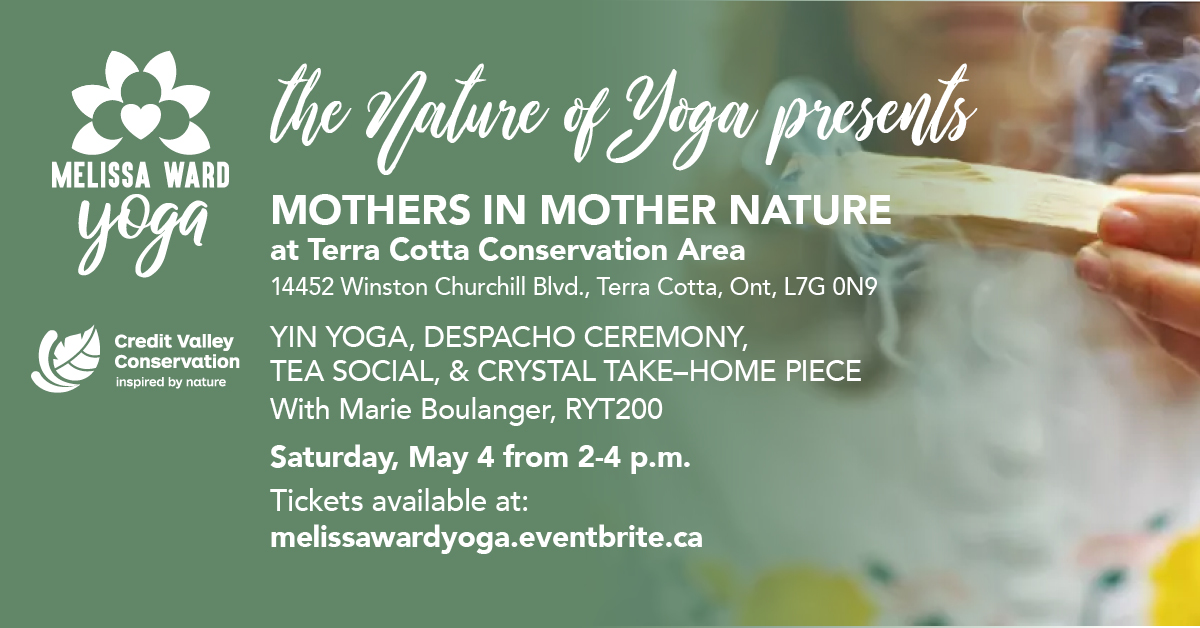 WHEN: Saturday, May 4th from 2-4 p.m.
WHERE: The Watershed Learning Centre building located at Terra Cotta Conservation Area
(14452 Winston Churchill Blvd., Terra Cotta L7G 0N9)
EVENT INCLUDES:
Nurturing Yin yoga session
Despacho Ceremony
Tea Social & Sharing
Aroma Therapy
Morganite Crystals
WHAT TO BRING:
Comfortable and cozy clothing
Yoga mat (all other props will be provided)
Water bottle
ID or proof of purchase
All are welcome! Please arrive at least 5 minutes early to park and check-in at the Watershed Learning Centre. Purchase your ticket today to reserve your spot, as this intimate space is limited! Check Facebook for more details and feel free to email contact@melissawardyoga.com with any questions.
Namaste,
Melissa Ward & Marie Boulanger
---
FAQs
Q: Where can I purchase tickets?
Eventbrite! Go to https://mothersinmothernature.eventbrite.ca
Q: What if it's raining?
We will be inside for the majority of this event at the Watershed Learning Centre. Dress appropriately if it calls for rain for the duration of the outdoor Despacho ceremony.
Q: Are there ID or minimum age requirements to enter the event?
ALL levels, ages, genders, and races welcome.
Q: What are my transportation/parking options for getting to and from the event?
Get to Terra Cotta Conservation area by car, about 30 minutes from Mississauga and 15 minutes from Brampton. Parking is free. The Watershed Learning Centre has its own parking lot (free).
Directions to Terra Cotta Conservation Area:
From the North
Travel South on Hurontario St (signs for Ontario 10 S)
Turn right onto King St/Peel Regional Road 9 (signs for Terra Cotta)
Turn right onto Winston Churchill Blvd (stop sign)
LARGE CVC Welcome sign on your left
From the South
Take 410 N to Hurontario St
Continue onto Hurontario St/ON-10
Turn left onto King St/Peel Regional Road 9
Turn right onto Winston Churchill Blvd (stop sign)
LARGE CVC Welcome sign on your left
Q: Are we going to be inside?
For all parts of this event except the Despacho ceremony, yes! Meet at the Watershed Learning Centre building, nestled in the trees on your left as you drive into the park. The cabin-like building has a washroom and features huge panes of glass to lookout into the trees.
Q: What is Yin yoga? I'm a beginner.
Yin yoga is accessible to all. It is a very slow-paced, relaxing style of yoga that aims to release physical, fascial and mental tension. Poses are often deep stretches down on the mat that are held for longer periods of time with the support of blocks and blankets. Drifting off to sleep is allowed!
Q: What is a Despacho Ceremony?
A Despacho ceremony is a traditonal sacred shamanic ceremony from the high Andes of Peru. The word despacho literally means dispatch or shipment in the Andean traditions of Peru a despacho. For this event, it will be an offering to Pachamama or Mother Earth.
Q: Do I have to pay park admission?
No! Your park admission is included in the ticket purchase to this event, so you can make a day of it and spend as much time in nature as you like! Just present your ID or proof of purchase at the gate upon entry.
Q: I'm a Conservation Parks Member. Is this event included in my membership?
Yes! If you are a Parks Member, please call 647-248-0790 for your entry discount.
Q: How can I contact the organizer with questions?
Email contact@melissawardyoga.com or call/text 647-818-3635.
---
This event is part of the Nature of Yoga monthly series.